Chicago Made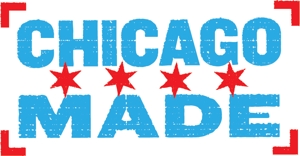 Stand 329, 331, 428, 430
72 E Randolph St. 3rd Floor
Chicago, IL 60601

URL ChicagoMade.us
Company Profile
CHICAGO MADE

Kanye's first gig didn't sell out the United Center. Groupon wasn't worth billions the day it was founded. Ferris Bueller wasn't always the world's most famous truant. From humble beginnings, it's how every great story starts in Chicago. This is a city of makers — where what is made in a garage or on a workbench or with a camera phone ends up larger than life.

Entrepreneurs, technologists, and business incubators are making big news out of new ideas. Premier music festivals like Pitchfork and Lollapalooza, alongside iconic and emerging bands and record labels, continue to feed off a scene that's been instrumental in shaping American music from Muddy Waters, to Frankie Knuckles to Common. Movie moguls making Blockbusters, indie filmmakers producing innovative new works, renowned film festivals and some of the best film schools anywhere, all highlight Chicago as a platform for telling larger-than-life stories.

For foodies and gourmands, there are bold flavors made daily. And, from boat tours along the Chicago River to a city-wide web of quintessential Chi-Town neighborhoods, there's no end to what you'll discover here. There is no limit to what you can make happen. Whether you come to be a maker or to meet the makers, one thing is certain: Chicago is where greatness is made.

Looking for a place to make your mark?

Meet, mingle with and see exclusive performances by Chicago makers at our tradeshow booth.

Immerse yourself in the Chicago experience at the Chicago Made showcase.

Or, do it all.

Visit www.ChicagoMade.us to dig even deeper.